Our wild salmon pepperoni is a fabulous blend of salmon and spices. Sure to please even the toughest pepperoni critic!
Features and Benefits

Hardy Buoys uses no liquid smoke, preservatives, chemicals, or dyes

All salmon is sustainably harvested

All Natural Original Pepperoni flavor and coloring

Pure Alder wood chips for smoking

Our plant is Federally registered #0746, and inspected regularly by the Canadian Food Inspection Agency (CFIA)

Ocean Wise Certified

Superior taste, texture and appearance for maximum value and the ultimate in freshness

Sold as a Frozen product.  Defrost what you need convenience for greater handling flexibility and perfect portion control.  Use/Sell 14 days from the date of thaw

Size uniformity for portion / cost control

Year round stable access and supply to the finest salmon available

Food Service:  menu variety, banquets, catering

Deli displays:  Can be sold bulk, or easily repacked at the store level for smaller portion retail sales

Placement:  Grocery store display cases, cconvenience stores, tourist attractions, Great for individual sale

6" sticks, one pound oxygen permeable vacuum sealed packages are labeled for individual sale

Can be sold thawed or frozen

Great for School snacks and lunches.

Adds variety to any meat & cheese platter

Finger Food

No waste
Shelf Life: Requires refrigeration.  14 day shelf life from the date of thaw.  2 years as frozen product.
Storage: Freezer
Cooking Instruction: Ready to serve
Packaging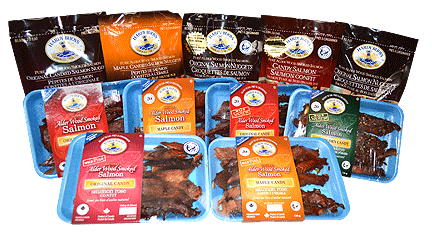 Food Service


Product Sheet Download .PDF
Packaging Type: Bags
Pack Size: 454 g
Case Quantity:8 x 1 lb bags
Gross Case Weight: 9 lb
Net Case Weight: 8 lb
Pallet: 15×7
Case Dimensions in inches (L x W x H): 13 x 8 x 4.5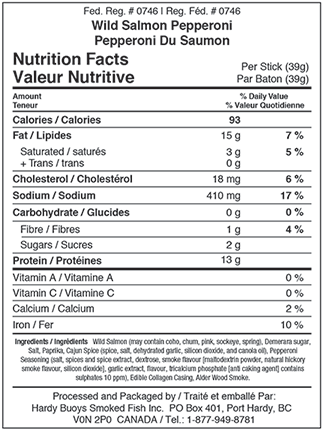 Ingredients:
Wild Salmon (Coho, Chum, Pink, Sockeye, Spring), Demerara Sugar, Salt, Water, Paprika, Cajun Spice, Pepperoni Seasoning, Edible Collagen Casing, Alder Wood Smoke.
Canadian Nutrition and Health Benefits
Hardy Buoys is your first choice for smoked seafood has been recognized over the years for consistent quality, taste and quality control chains. Now we are making it easier for you to identify the key health benefits for our products.
Did you know?
Omega –3's are good for your health! Omega-3's are polyunsaturated fatty acids. Because they're something our body can't make, we need to get them from the food we eat. And seafood is an excellent choice!
Every effort is taken to ensure that the packaging, ingredients, nutritional and other information listed here is accurate, however, data, may change from time to time. Please always check the product's case or packaging for the most current information or contact your Hardy Buoys Smoked Fish Inc. customer service representative at 1-877-949-8781.