For a list of products that we produce and inventory on an ongoing basis:
Hardy Buoys Retail Product List (file format: .pdf)
Hardy Buoys Bulk Product List (file format: .pdf)
Any combination of species and flavour is possible as a custom or private label product.  Please contact sales@hardybuoys.com for more information on customizing.

Hardy Buoys capability to provide quality on a consistent basis is possible not only because we are committed, but because over the years we have partnered with businesses who share the same rigorous screening process and share our values and understanding of sound seafood harvesting. You can be assured that every step, from our 'state of the art' plant to your tables, is carefully monitored and controlled. Our stringent production standards, which meet or exceed all government regulations, are integrated into every aspect of our business, ensuring that food safety and quality are never compromised.
We offer the finest array of smoked fish products in the industry. We are producing upwards of 65 different tasty combinations of products and many varieties of flavors like: Maple, Garlic, Cajun, Spiced, and Original. These products are backed by a skilled workforce with years of experience. Our capabilities extend to include distribution and top customer service support.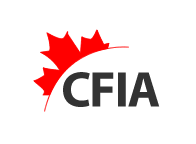 Food Safety
We pride ourselves on our commitment to your company's expectation of quality, food safety and premium taste. Our plant is federally registered under the Canadian Food Inspection Agency. Our registration number is 0746.
Hardy Buoys is audited twice yearly by the C.F.I.A.. All products are monitored and tracked to ensure its safety from the moment our raw products arrive to the time they are delivered. All staff is trained to be conscientious about health and safety regulations and care for the proper handling of all products.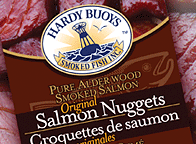 Packaging Customization
Hardy Buoys customizes retail and food service in a variety of sizes and formats.  Packaging is available in private label or Hardy Buoys brand formats.
Features and formats available include:
Individually Quick Frozen (IQF)
Vacuum sealed (air tight)
Vacuum sealed (Oxygen permeable)
Foam Trays
Flexible Plastic Pouches
Recloseable features
We can custom package using one or more of the above methods.
Let us know today how Hardy Buoys can help you with your private label packaging needs.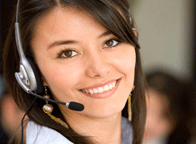 Customer Service
Our staff has years of experience servicing customers that expect only the best and freshest smoked fish available.  Our capability to provide exceptional customer service is why customers generally become life-long customers.  A few of our core capabilities include:
Hardy Buoys Smoked Fish Inc. partners only with the best distributors in the Industry, who share our commitment for great service and guarantee the integrity and quality of our products is given top priority.
Hardy Buoys deals only with freight carriers that can provide secure transportation, and on time delivery.  Our team of professionals are very experienced at shipping frozen products to market.  Whether within Canada or for export, our freight carriers are well established to handle any kind of transportation requirements.
Hardy Buoys 50,000 square foot plant is well equipped to service small and large customers alike.  Our dedicated work force operates our facility 7 days per week.  Automation gives us the capability to produce large quantities of smoked fish daily, while maintaining strict quality and food safety standards.
Our Customer Service and Sales staff have extensive knowledge of the industry and products.  Whether you are a seasoned customer or a new store, our staff will dedicate their resources, time and attention to help you be successful and fully satisfy your customers.
At Hardy Buoys Smoked Fish Inc. we believe that part of providing great service is providing food that is safe and of the highest quality.  Your company's reputation relies on the products you offer.  That is why Hardy Buoys sources only the best quality raw fish and ingredients.  From order to delivery, our staff is committed to following strict guidelines, with your full satisfaction in mind.  Our service does not end when we deliver the products, but continues as we work with your staff to provide information on how to serve, how to handle, how to prepare and when/what to sell.  Ensuring the most profit from your investment, and continued joint growth.