To make this moist, sweet, smoky delight Hardy Buoys uses fresh local sockeye salmon, brine it, then smoke it to succulent perfection with natural alder wood. Rich, full of omega-3 fatty acids and protein–a healthful treat, and wonderfully flavourful Sockeye Salmon Candy sets any gathering off on the right foot!
Features and Benefits
Salmon is sustainably harvested fresh from the cold, clear waters of the Pacific northwest.
Individually quick frozen.
2 year shelf life. You won't find a fresher, tastier candied salmon product anywhere!
Superior taste, texture and appearance for maximum value and the ultimate in freshness.
Delicate, sweet flavour, texture and product purity for unbeatable freshness.
Defrost what you need convenience for greater handling flexibility and perfect portion control.
Guaranteed accurate sizes with less pieces, size uniformity for portion/cost control.
Delivers stable year-round access to the finest Canadian Smoked Candied Salmon available.
Shelf Life: 2 year
Storage: Freezer
Cooking Instruction: Ready to serve
Packaging
Retail


Product Sheet Download .PDF
Packaging Type: Tray
Pack Size: 150 g
Case Quantity: 10 x 150 g
Gross Case Weight: 4 lb
Net Case Weight: 3.31 lb
Pallet: 15×7
Case Dimensions in inches (L x W x H): 13 x 8.5 x 4.5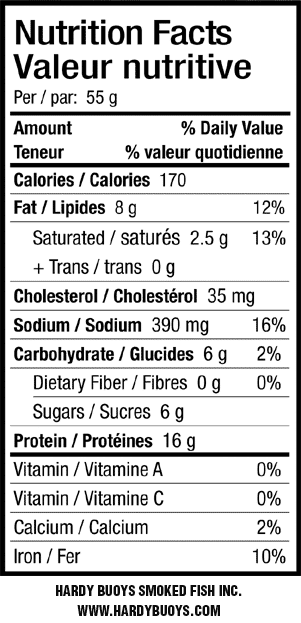 Canadian Nutrition and Health Benefits
Hardy Buoys is your first choice for smoked seafood has been recognized over the years for consistent quality, taste and quality control chains. Now we are making it easier for you to identify the key health benefits for our products.
Did you know?
Omega –3's are good for your health! Omega-3's are polyunsaturated fatty acids. Because they're something our body can't make, we need to get them from the food we eat. And seafood is an excellent choice!
Every effort is taken to ensure that the packaging, ingredients, nutritional and other information listed here is accurate, however, data, may change from time to time. Please always check the product's case or packaging for the most current information or contact your Hardy Buoys Smoked Fish Inc. customer service representative at 1-877-949-8781.