Natural Smoked Salmon
 Chunks
Hardy Buoys uses no liquid smoke, preservatives, chemicals, or dyes. Only sugar, salt and alder wood smoke. Our Natural Smoked Salmon has been left in its authentic state for those who love the taste of wood smoked salmon.
Cracked Peppercorn Smoked Salmon
 Chunks
Each hand cut piece of salmon is brined and generously encrusted with fresh cracked peppercorns prior to smoking.
Cajun Spiced Smoked Salmon
 Chunks
This local favourite is created by coating naturally brined salmon with a secret blend of Cajun seasonings.
Garlic Smoked Salmon
 Chunks
Our Garlic Smoked Salmon is created using a mixture of garlic and other seasonings. Each piece is covered with our spice mixture before smoking to showcase the garlic and natural smoke flavours.
Shelf Life: 2 year
Storage: Freezer
Cooking Instruction: Ready to serve
Food Service
Packaging Type: Bags
Pack Size: 6 lb bulk
Case Quantity: 2 x 1.36 kg
Gross Case Weight: 7 lb
Net Case Weight: 6 lb
Pallet: 15×7
Case Dimensions in inches (L x W x H): 13 x 8.5 x 4.5
Retail
PLEASE NOTE: This product can be re-packed at the retail level. For example: deli's can re-pack into in-store containers or sell by the gram/pound.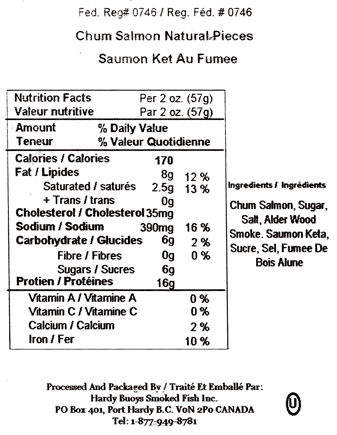 Canadian Nutrition and Health Benefits
Hardy Buoys is your first choice for smoked seafood has been recognized over the years for consistent quality, taste and quality control chains. Now we are making it easier for you to identify the key health benefits for our products.
Did you know?
Omega –3's are good for your health! Omega-3's are polyunsaturated fatty acids. Because they're something our body can't make, we need to get them from the food we eat. And seafood is an excellent choice!
Every effort is taken to ensure that the packaging, ingredients, nutritional and other information listed here is accurate, however, data, may change from time to time. Please always check the product's case or packaging for the most current information or contact your Hardy Buoys Smoked Fish Inc. customer service representative at 1-877-949-8781.